Entering MT-2 Culture Assay Results Using a Culture Supernatant
If you selected the option to generate a MT-2 supernatant, one will be created. The MT2 supernatant is a special specimen derived from the culture that has the same global specimen ID as the original aliquot (and culture) and is only viewable within LDMS Assays

when setting up the MT-2 assay.
In LDMS, the MT-2 culture assay in LDMS is a data entry assay used after your work is completed.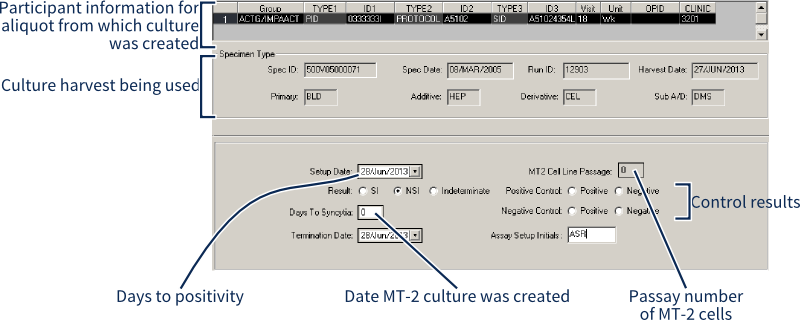 Select the MT-2 Assay, found in the Assays list in the Misc category, and click the button.

Find the supernatant that you want to test by clicking the from the LDMS toolbar or by using search criteria, then click the button.

Note:

The supernatant will have the same global specimen ID as the culture from which it was created.

Enter the date that the MT-2 culture was created into the Setup Date field.

Select the results of your testing.

If the culture was positive for syncytium-inducing (SI), select SI.

If the culture was negative and non-syncytium-inducing (NSI), select NSI.

Enter the date that the MT-2 culture was terminated into the Termination Date field.

Enter the passage number of MT-2 cells into the MT2 cell line passage box; this must be a number between 1 and 100.

Enter the results for your controls into the Positive Control and Negative Control fields.

Enter the initials for the person who performed the culture work into the Assay Setup Initials box.

Click the button from the LDMS toolbar.
If you are testing multiple MT2 cultures, use the database navigation buttons

on the LDMS toolbar to find them, then repeat the data entry process.