LDMS for the Web
LDMS is a laboratory information management system (LIMS) for managing collections of biological specimens. It's is easy to use and is ideally suited for small and medium-sized research laboratories. Want to learn more? Download brochure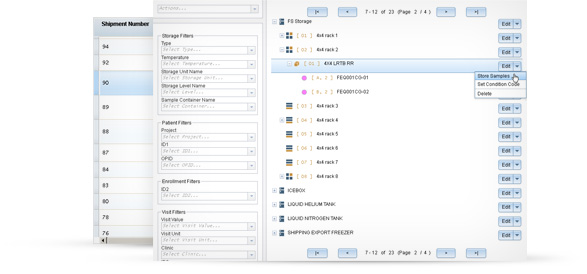 All LDMS users are provided with 24 hour user support, as well as dedicated training services. Frontier Science also works routinely with clinical network leadership to tailor LDMS and training programs to meet their unique needs.
LDMS is competitively priced compared to similar systems, making it ideal for small and medium-sized, research-focused laboratories. Special pricing is also available to laboratories performing not-for-profit research.
To get a quote, contact us
Features
Specimen Data
Keep a record of participant and specimen details. Information such as the time and type of participant visit, the type of specimens collected, and much more can be saved. All of this information is grouped together by participant, so it is quick and easy to find what you need.
Shipping
When specimens are moved between laboratories, the data for those specimens will also need to be transferred. The shipping feature in LDMS allows you to create a computer file with this specimen data. The receiving laboratory can use the shipping file to get all of the specimen data.
Labels
LDMS can be used to generate many kinds of labels for your specimens. In addition to including information about the specimen or visits, labels can also have a 2D barcode that contains the specimen's global specimen ID, a number that uniquely identifies the specimen.
Storage
LDMS's powerful and intuitive storage management feature allows you to keep your storage system organized. You can design a hierarchy of storage items that matches how your real-life specimen storage is set up, and then assign specimens to locations in storage.
Compatibility
If you are currently using LDMS for Windows, or routinely do work with laboratories that use LDMS for Windows, you can still take advantage of LDMS. Specimen data from your existing LDMS for Windows system can be converted by Frontier Science so that your data will continue to be available.
No Installation Needed
LDMS and your laboratory's data can be hosted for you by Frontier Science. If you use Frontier Science's data hosting, you can rest assured that your data is safe and reliable, in an environment that meets strict industry security standards.